Looking for professional book editing services? You've come to the right place!
Why does your book need editing?
Good books have professional covers and formatting, but great books have also been professionally edited. Our team of book editors will guide you through the revision process, suggest changes and ultimately make you a better writer. No matter where you are in your writing career, no amount of self-editing can replace working with good editors.
Why choose Ebook Launch to edit your book?
Our team has been honing our craft in the publishing industry since 2011. As one of the top book editing companies in the industry, we offer high-quality editing with professional standards at affordable prices. We believe publishing should be as stress-free as possible and our one-stop-shop approach streamlines the process.
What kind of books do we edit?
Our team of professional book editors can accommodate every genre of fiction and nonfiction. Whatever type of book, our editors provide thorough copy editing and proofreading.
Our Editing Services
Book editing prices vary depending on the type of service and length of your book.
(Minimum $200 per service per book)
Copy Editing $0.016 per word
Copy editing looks at the mechanics of language, such as style, grammar, spelling, and inconsistencies in style or usage. Read more about copy editing.
What is copy editing?
Copy editing does not address big-picture problems with plot, pacing, or characters. Those major issues would be dealt with during developmental editing (see above). Instead, copy editing focuses on the more technical side of writing.
Copy editors catch spelling mistakes, errors in grammar, and inconsistencies in your text. They know when compound words are hyphenated (or not), whether the book is 'laying' or 'lying' on the table, and whether eagles have 'talons' or 'claws.' They'll go through your manuscript line by line for accuracy and consistency of style. A good copy editor will make sure that your voice remains intact while restructuring sentences, and substituting weak word choices for stronger ones.
What are the standards of copy editing?
Our editors consult The Chicago Manual of Style and other style guides. The Chicago Manual of Style is the industry standard for most fiction and nonfiction, but our editors may determine that your nonfiction is better served with another style guide like The Associated Press Stylebook or MLA Style Manual and Guide to Scholarly Publishing.
They'll also set a default dictionary, such as Merriam-Webster's Collegiate Dictionary, to maintain spelling consistency throughout your book. In addition, they'll consult many reference guides along the way, such as Garner's Modern American Usage, The Blue Book of Grammar and Punctuation, or The Copyeditor's Handbook.
Style Sheet
These reference choices will all be recorded on a style sheet – an essential editing tool. A style sheet contains notes on spelling and punctuation, as well as rules for using numbers and numerals, and even a list of characters and story details that help maintain consistency throughout the book. When the book is passed off to a proofreader, the style sheet communicates the book's individual style to the proofreader.
Copyediting costs 1.6 cents per word, or $1,600 per 100,000 words.
Proofreading $0.007 per word
Proofreading is the last step in the editing process. It focuses on catching any remaining errors in grammar, spelling, and punctuation before formatting. It is not a replacement for copy editing. Read more about proofreading.
What does a proofreader do?
Before your book is formatted, the manuscript is sent to a proofreader, who reviews the text. Proofreading ensures that no errors were introduced after copy editing. The goal is to correct any outstanding errors in spelling, punctuation, or mechanics. However, this is not a revision stage and does not take the place of copy editing.
What is the difference between proofreading and the other types of editing?
The goal of proofreading is to identify the most glaring errors in spelling and punctuation before formatting. It is not a replacement for copy editing, nor does it address the big-picture areas of developmental editing.
Do I need a proofreader if I've already worked with a book editor?
We always recommend proofreading. It is an essential last step before formatting. No matter how meticulous the copy editing process has been, little errors can slip through during revisions. Having a different editor proofread your manuscript helps to ensure that spelling mistakes or punctuation errors are corrected before publishing.
Proofreading costs 0.7 of a cent per word, or $700 per 100,000 words.
Why Choose Ebook Launch?
GET A FREE 750 WORD SAMPLE TO DECIDE IF WE'RE RIGHT FOR YOU
TRUSTED BY THOUSANDS OF INDEPENDENT AUTHORS AND PUBLISHERS SINCE 2011
FRIENDLY, EFFICIENT COMMUNICATION WITH OUR EDITING TEAM
Trusted by the Best in the Business
Ebook Launch has been working with Smashwords authors since way back in 2009 (a lifetime in digital years!). They're always professional, ever reliable and competitively priced. I highly recommend working with these guys!
Mark Coker

I highly recommend Dane and the team at Ebook Launch for their cover designs. They have their finger on the pulse of today's readers and know exactly how to present your book so it reaches its potential. That's why they've repeatedly won top honors in our cover design contest.
Joel Friedlander

Ebook Launch is one of the best book cover designers I know—especially for the trickier covers which call for more creative, out of the box solutions. You can't go wrong hiring them to design your book.
Derek Murphy

Book Editing Services FAQ
Are sample edits available?
Yes! Request a free sample edit on our quote form of up to 750 words from your book so you can decide if our style works for you. Depending on editor availability, this may take a few days.
Does my manuscript need copy editing and proofreading?
The official answer is maybe.
If you're a seasoned author, you may not need the kind of in-depth scrutiny a developmental edit entails (a service that we don't currently offer). Having a copy editor subtly refine your prose, and a proofreader catch any lingering errors may be all your manuscript needs as a final polish before publication.
If you're a first-time author, we do recommend having these services performed on your book. There is much to be gained by having good editors help you shape your writing, and make your work the best it can be.
Do you also offer book formatting?
What are the book editors' qualifications?
Our book editors have years of experience with editing and have been tested to make sure they know what they are doing. If you're still unsure, please ask for a free sample edit of 750 words on our quote form so you can judge the quality of the work for yourself.
Will editing catch all of the mistakes in my book?
Although our book editors work to make your book as good as it can possibly be, it is sometimes impossible to catch every error. However, having several sets of eyes read through your manuscript significantly reduces the risk of uncaught errors.
How do I review the editor's recommendations?
With all of our book editing jobs, our editors use track changes, so you can review each edit and choose what to implement. Having Microsoft Word makes the task of reviewing easiest but most word processors support importing Word files.
Do you offer a money back guarantee?
Yes! We stand behind our book editing services with our 100% Satisfaction Guarantee. If for any reason you don't like something, we'll work with you to make it right or we will refund your money. It's that simple.
What if I have more questions?
You can click on the icon on the bottom right of each page to see if we have answered your question there. If not, you can contact us at any time.
The Ebook Launch Guarantee
We stand behind our book editing services with our 100% Satisfaction Guarantee. We genuinely want you to be happy with our work. If for any reason you don't like something, we'll work with you to make it right or we will refund your money. It's that simple.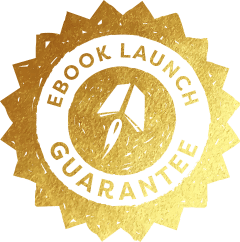 Authors Love & Trust Us
"My books have very complicated formatting with over 100 illustrations each, external links, and numerous bulleted lists. None of the formatters I contacted would even take these on but John said "No problem!" He completed my original three e-books quickly, for a more than fair price, and they look great. I have no hesitation recommending Ebook Launch's work to other e-book authors!"

Author of '11 Trigger Points' pain relief self-help books

"I cannot say enough good things about the team at Ebook Launch. As I am not totally computer savvy, they took the time to explain to me how everything works in ebook publishing. They have tremendous cover artists. Any ebook author would be wise to choose Ebook Launch for their formatting and cover needs."

Author of the 'Yes, You Can' series

"I am the self-published author of four novels: both ebooks and paperback. I have used the formatting and cover design services of the amazing team at Ebook Launch for two of these titles. I've found all at Ebook Launch to be patient, incredibly helpful, super quick in delivering, but above all, very professional – and reasonably priced to boot! I wouldn't hesitate to recommend Ebook Launch for your next project; these are, without doubt, the go-to-guys for the self-published."

Author of 'Front Stack'

"I just wanted to thank you for the wonderful work you did on my book. My book made the premium catalog at Smashwords. I wouldn't have been able to do it without your help. I am working on a new book and would be honored if you will work on that book as well."

Author of 'Pack Law'

"We WON! Not only for best Young Adult ebook cover design (gold medal thank you very much), but ALSO for overall top 50 (gold medal number two)! Two gold. I'm speechless. Apparently winning 2 gold is an anomaly. I always loved that word."

Author of 'Suicide City'

For professional formatting, Ebook Launch is worth every penny. Prompt, knowledgeable, cheerful, superb quality, wonderful about revisions. No doubt in my mind that Ebook Launch cared about my project and went the extra mile to make sure I was satisfied. Highly recommended.

Author of 'A Portrait of Valor'

I wanted to thank you again for creating such beautiful covers, for your responsiveness to my questions and concerns, and for being so patient with me as I stumbled my way through this process. I appreciate it very much! I will definitely recommend you guys in the future (and I'll be back, too!)

Author of the 'Hardy Falls' Series

Ebook Launch hit the ball out of the park with their designs for my oddball short story collections. I have been inundated with compliments on my covers from both readers and fellow authors alike. Some readers even gushed over them in their reviews. Now that's saying something!

Author of Lost & Found, Worst. Superhero. Ever., and Queen of the Nutters

Finding ebooklaunch by surfing the Internet was awesome!!! I used them to format my most recent book "Christian Caregiving: Practical Advice for a Happy Ending" and I am so glad I did. They are fast, efficient, and careful. I will use them again next time I am inspired to write another book. I will also be telling all my author friends about their great service. Five Star!

The team at Ebook Launch was highly recommended by a publishing website I trust, and I turned to them for helping me format my ebook. They have been wonderful to work with! The turnaround was unexpectedly fast and I got incredible value for my money. But more importantly, Adrian gave my book the same care I would as an author. He offered suggestions that improved its appearance and provided a beautiful, clean format. I also appreciated his patience and friendliness. If you want great service at a great price, Ebook Launch is the way to go.