If you're a self-publishing author, you know that there are a lot of factors to consider when it comes to creating a professional-looking book. One important element that is often overlooked is the dust jacket – the protective cover that goes on the outside of your book. In this post, we'll take a closer look at what dust jackets for books are, why they're important, what to include when creating them, and how you can get one for your book.
Specifically, in this post you'll learn about:
Okay, let's dive in!
What is a Dust Jacket?
A dust jacket (sometimes book jacket, dust wrapper or dust cover) is a protective cover that is placed on the outside of a hardcover book. It is typically made of paper and has the title, author, and other information about the book printed on it. The purpose of dust jackets for books is to protect them from damage, such as scratches, scuffs, and tears, and to provide information about its contents to potential readers.
In contrast, a case-laminate hardcover is a hardcover book that has a glossy, laminated cover that is more durable and resistant to damage than a traditional dust jacket. A paperback book, on the other hand, does not have a protective cover at all and is bound with soft covers that are not as durable as a hardcover book.
To read a more detailed post about the different printing options available to self-published authors, be sure to check out our post about hardcover vs paperback options.
A well-made, custom dust jacket can help your book look professional and polished. In addition, a dust jacket can help to differentiate your book from other self-published books on the market, which is especially important if you're trying to stand out in a crowded marketplace.
Now let's break down each section of a dust jacket and what to include. Stay with us!
Anatomy of a Dust Jacket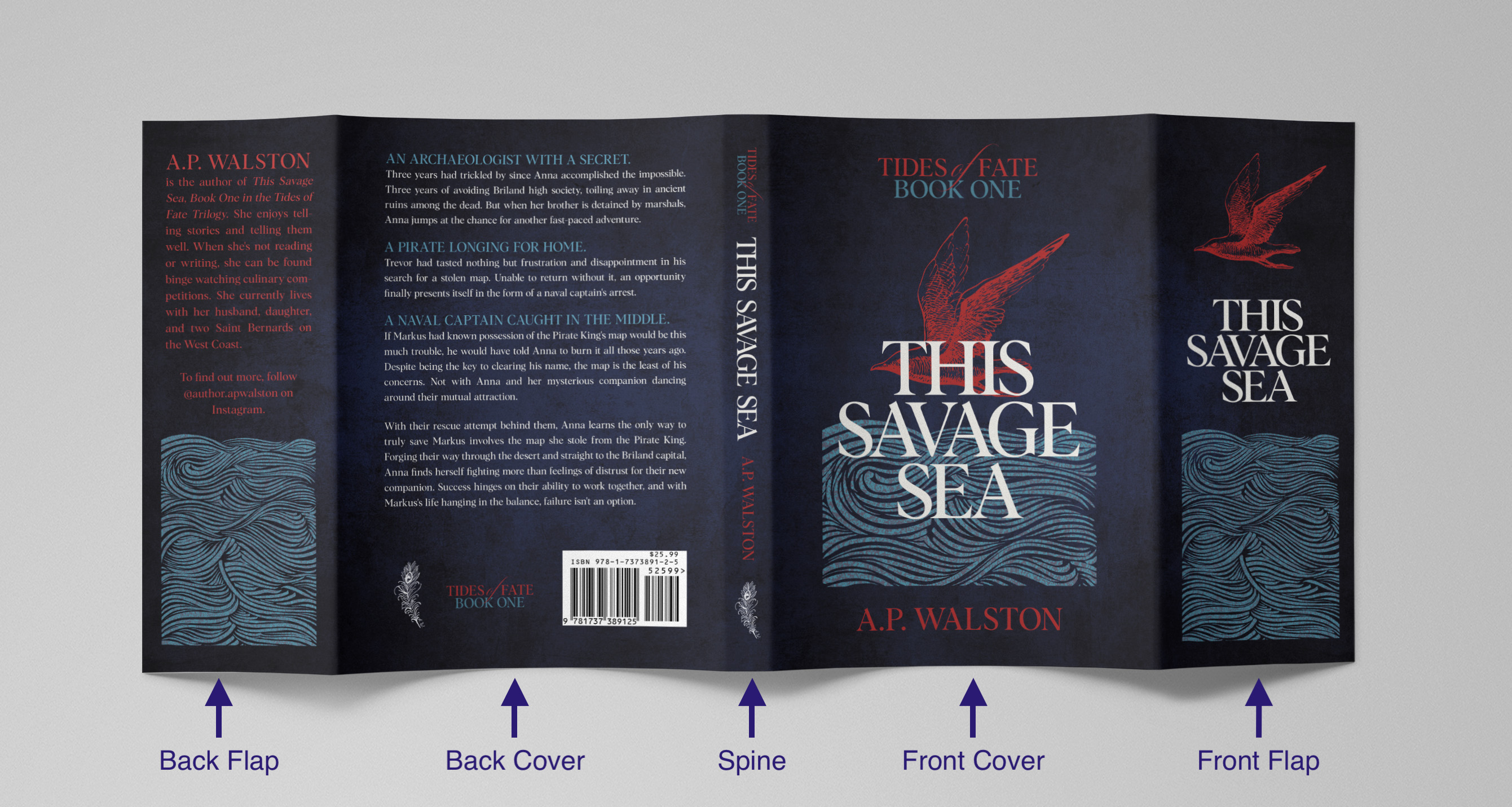 In addition to the front cover, spine and back cover that paperbacks and case laminate hardcovers have, dust jackets also have two flaps that wrap around the front and the back of the book (noted as "front flap" and "back flap" in the image above).
The specific design and content elements that are included in each of these sections will vary depending on the book and the preferences of the publisher or author.
Below, we suggest what to include in each section:
Front Cover
The front cover is the same book cover design as the ebook, paperback and hard cover. We have more detailed posts about what makes a good book cover, but here are the basic elements that are included:
The book's title and author: The title and author are often prominently displayed on the front cover of the dust jacket.
Awards or accolades: If the book has won any awards or has received notable recognition, this information may be included on the book's jacket.
Front Flap/Back Cover/Back Flap
The elements included on the front cover are usually pretty fixed (e.g. the title, author name and design); whereas, when it comes to dust jackets for books, authors and publishers have more flexibility about what elements to include and where. Below is a list of the more common elements:
Endorsements or reviews: The front cover of a dust jacket may also include endorsements or reviews from other authors, critics, or readers, which can help to build buzz and interest in the book.
Additional details about the author: The dust jacket may include additional information about the author, such as a brief author biography, a list of their other works, a photograph and links to their social media accounts/website.
ISBN, book publisher logo and publication date: The publisher and publication date are typically included on the back cover of the book's dust jacket, along with the ISBN and any other relevant information about the book's edition or printing.
A Blurb of the book's contents: The dust jacket often includes a brief summary or description of the book's contents, which is designed to give potential readers an idea of what the book is about and what they can expect to find inside.
Additional Graphics: Some authors like to keep it clean with the design and keep the flaps blank or include additional graphics relevant to the overall design of the cover.
In general, the purpose of a dust jacket is to provide information about the book and to entice potential readers to purchase it. The specific elements that are included on a dust jacket will vary depending on the book and the preferences of the publisher or author, but the above items are commonly found on dust jackets.
Next, let's look at some examples that we've designed!
Custom Dust Jackets – Examples with Different Layouts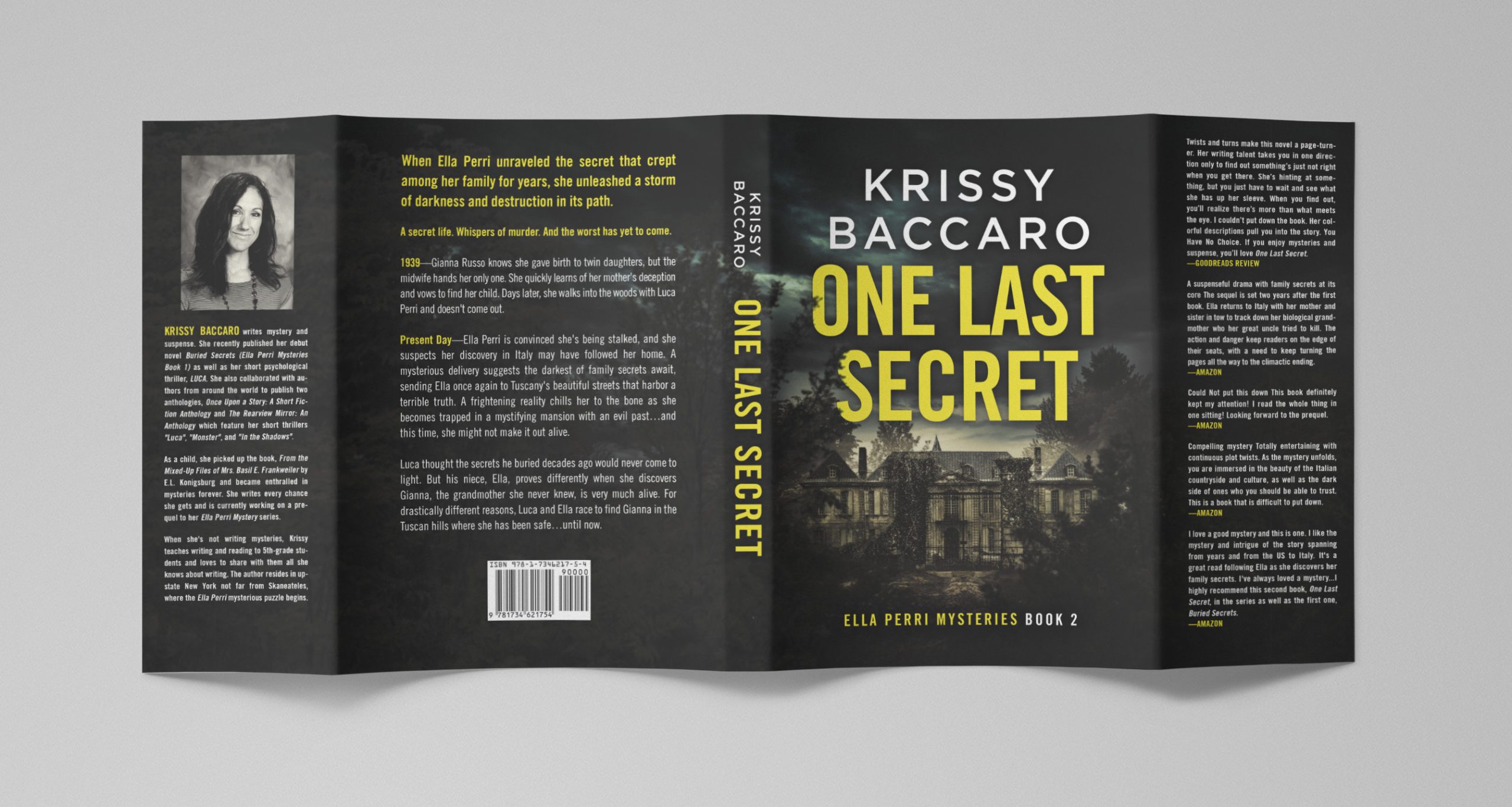 One Last Secret – Krissy Baccaro – This dust jacket layout is one of the more common. The front flap has been used to showcase reviews, the back flap to provide more information about the author and an author image, and finally the back cover the ISBN has a compelling blurb to hook potential readers.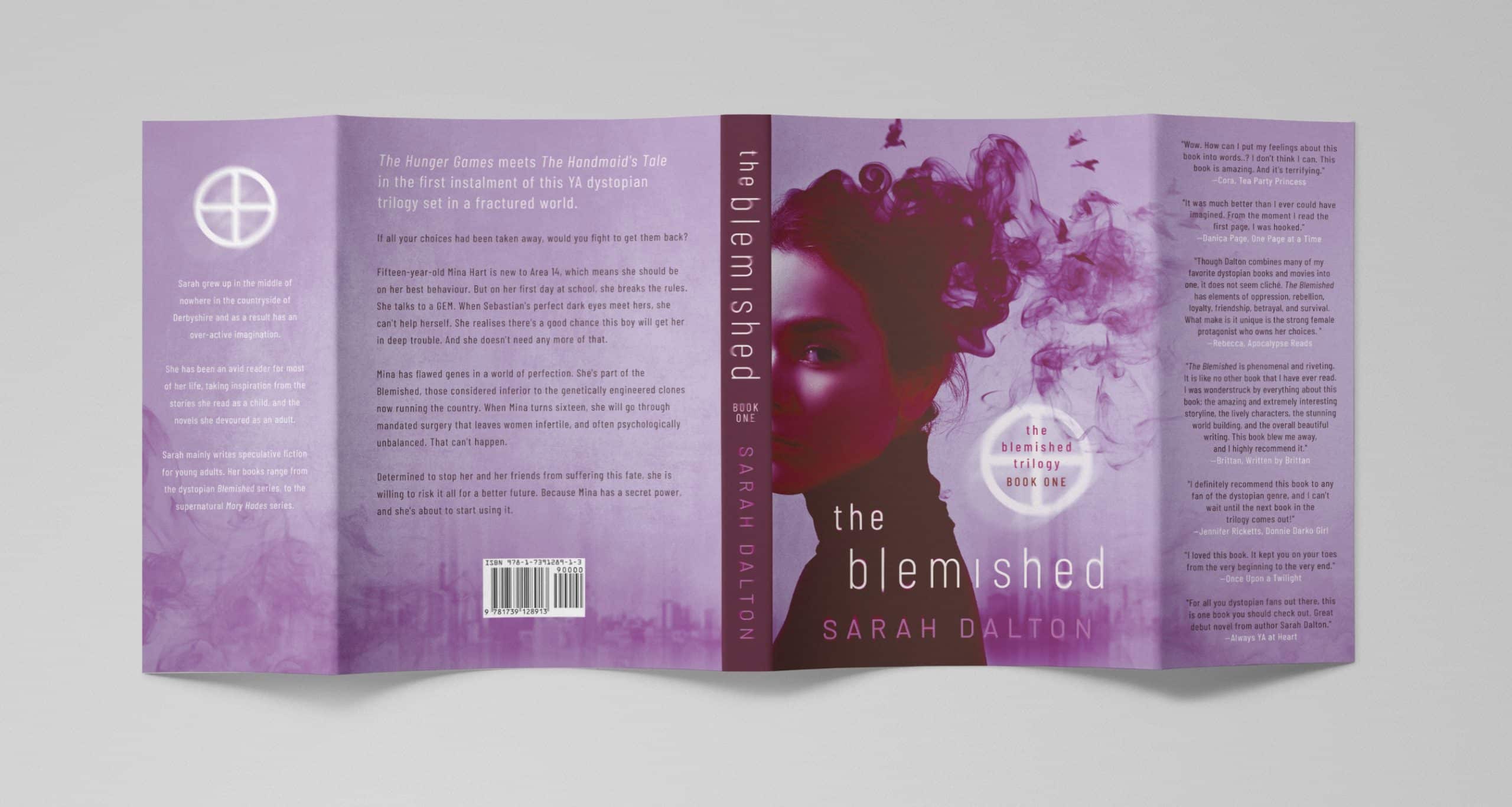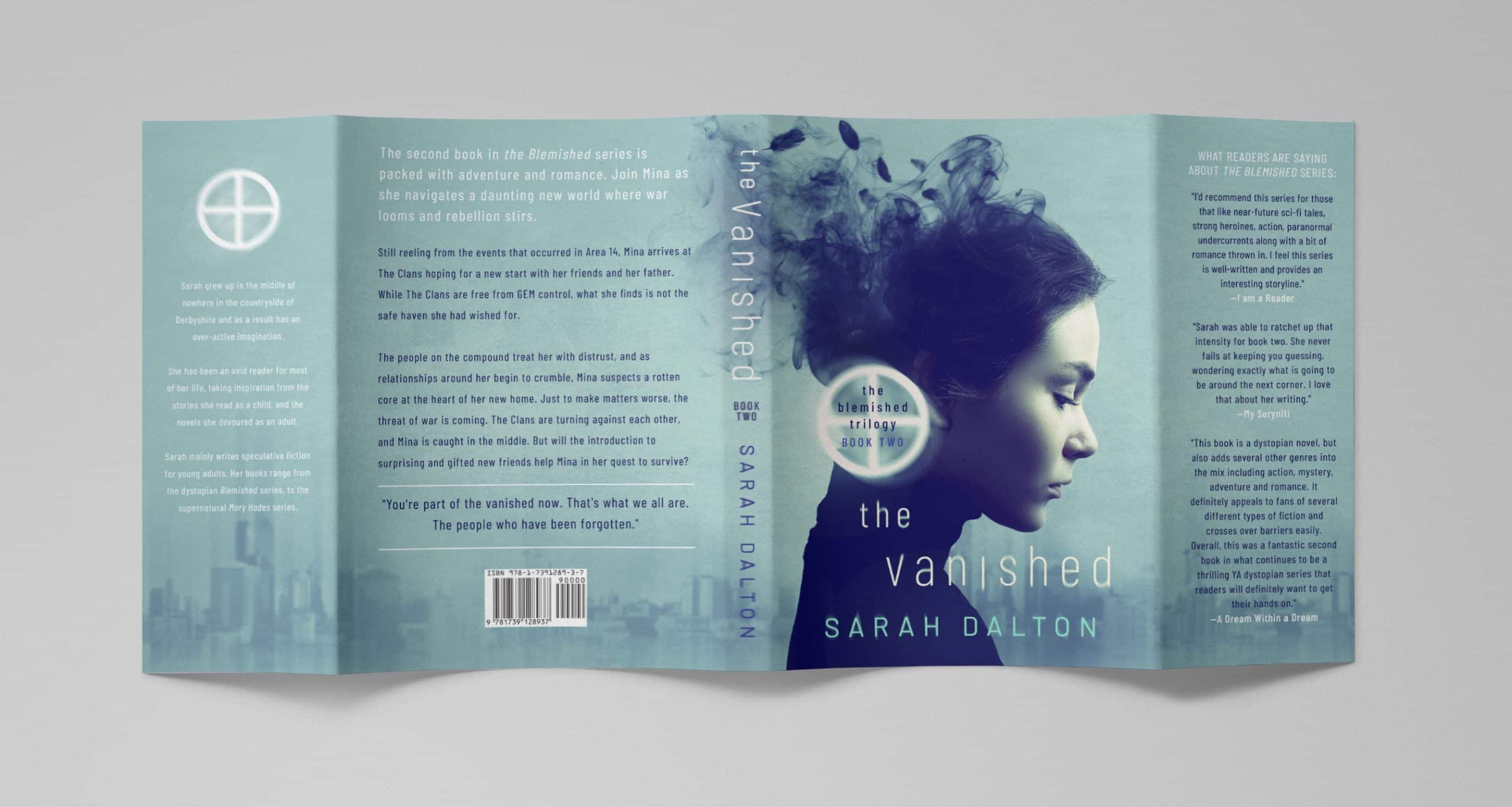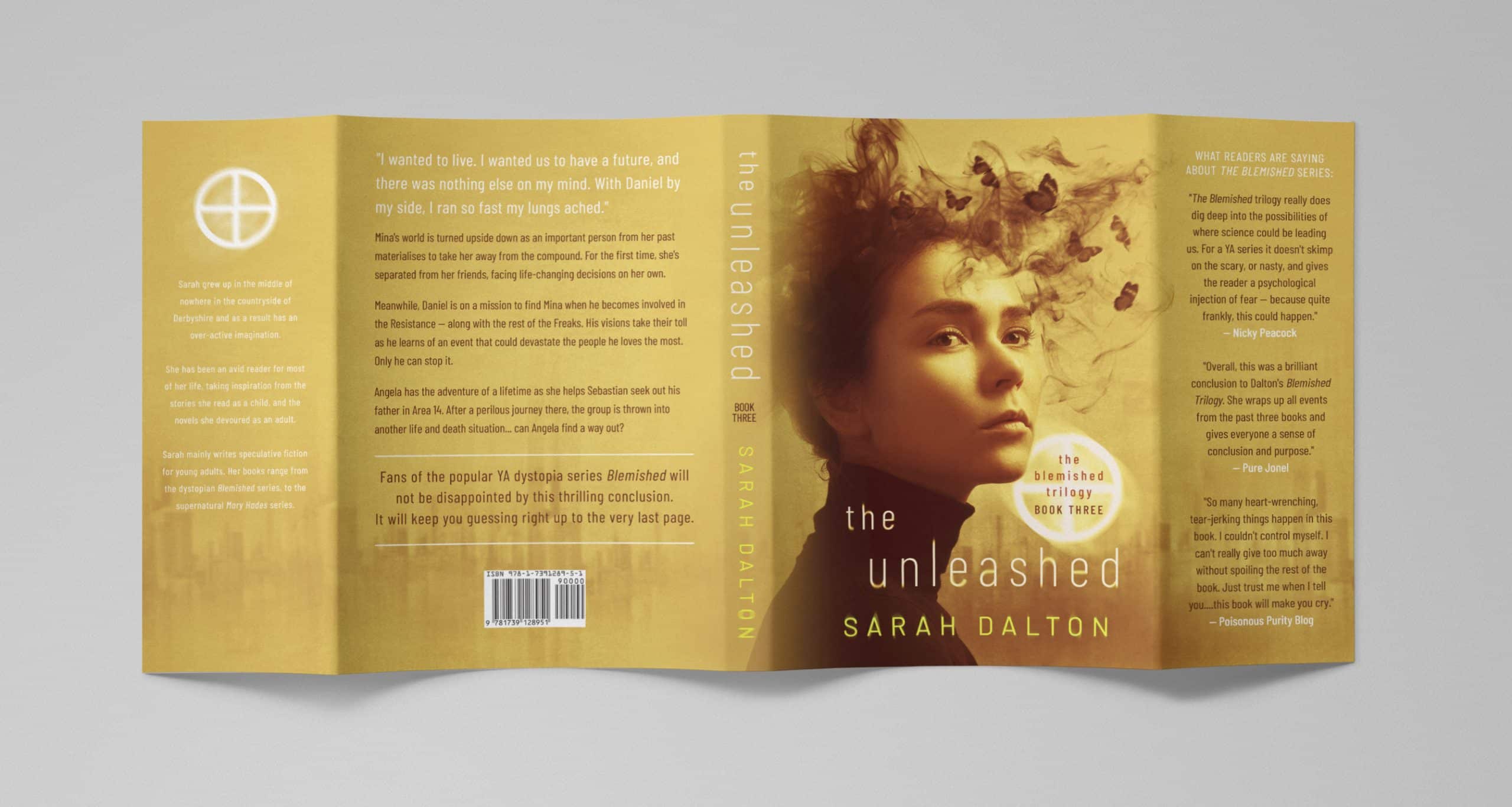 The Blemished – Sarah Dalton – These examples here show the consistency of layout across a trilogy of books. Sarah used the front flap to feature favourable reviews, the back flap to provide her author bio and the back cover to feature the book's blurb as well as a review. It can be tempting to include as much information as possible on a dust jacket, however, this layout provides enough space to let the different elements shine.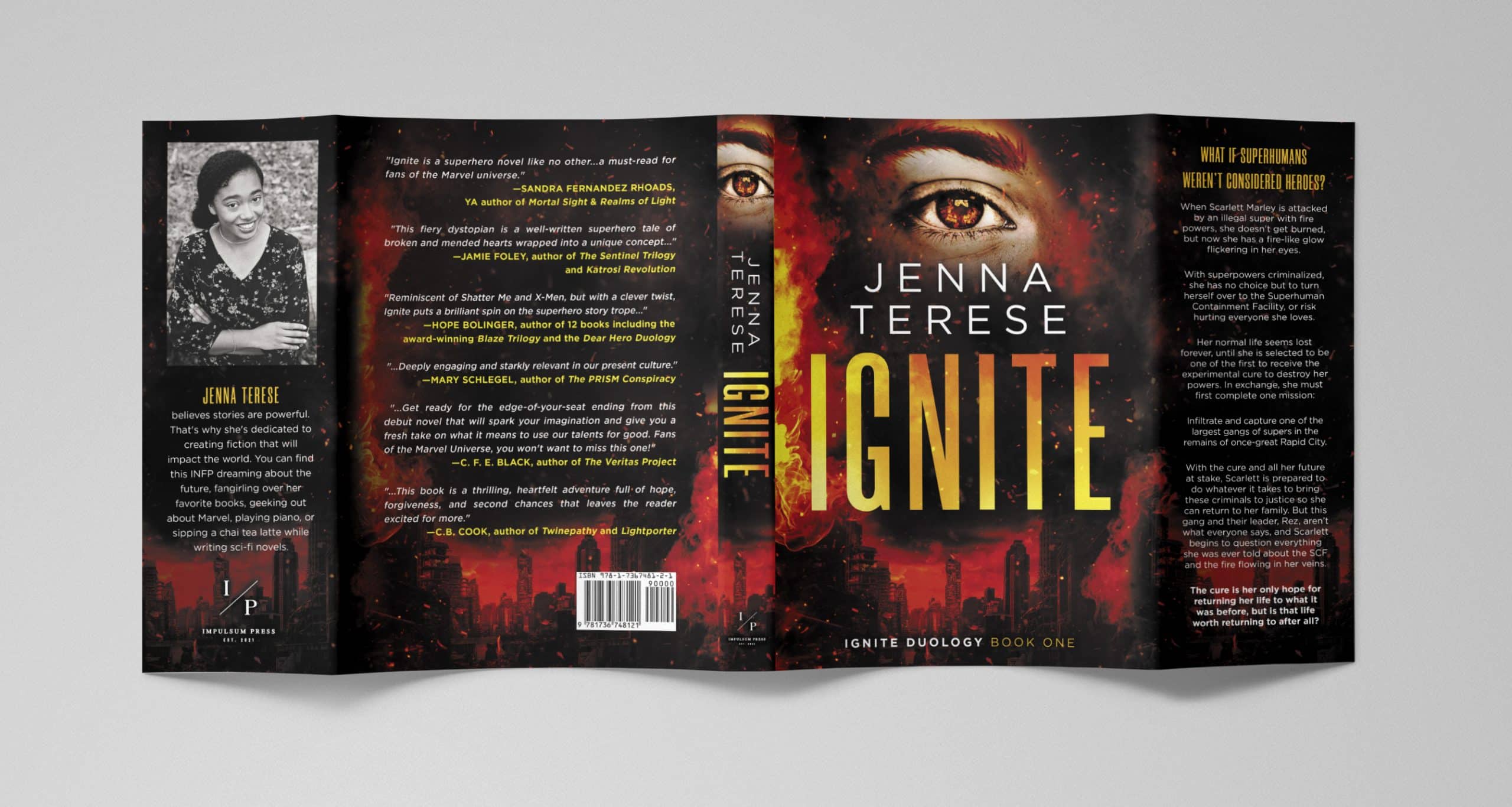 Ignite – Jenna Terese – In this example, the author has the blurb on the front flap and has featured the reviews prominently on the back cover. She has also included the publishing logo on the spine and back flap under her author bio and photo. If you have a pile of great reviews, this is a good way to show them off!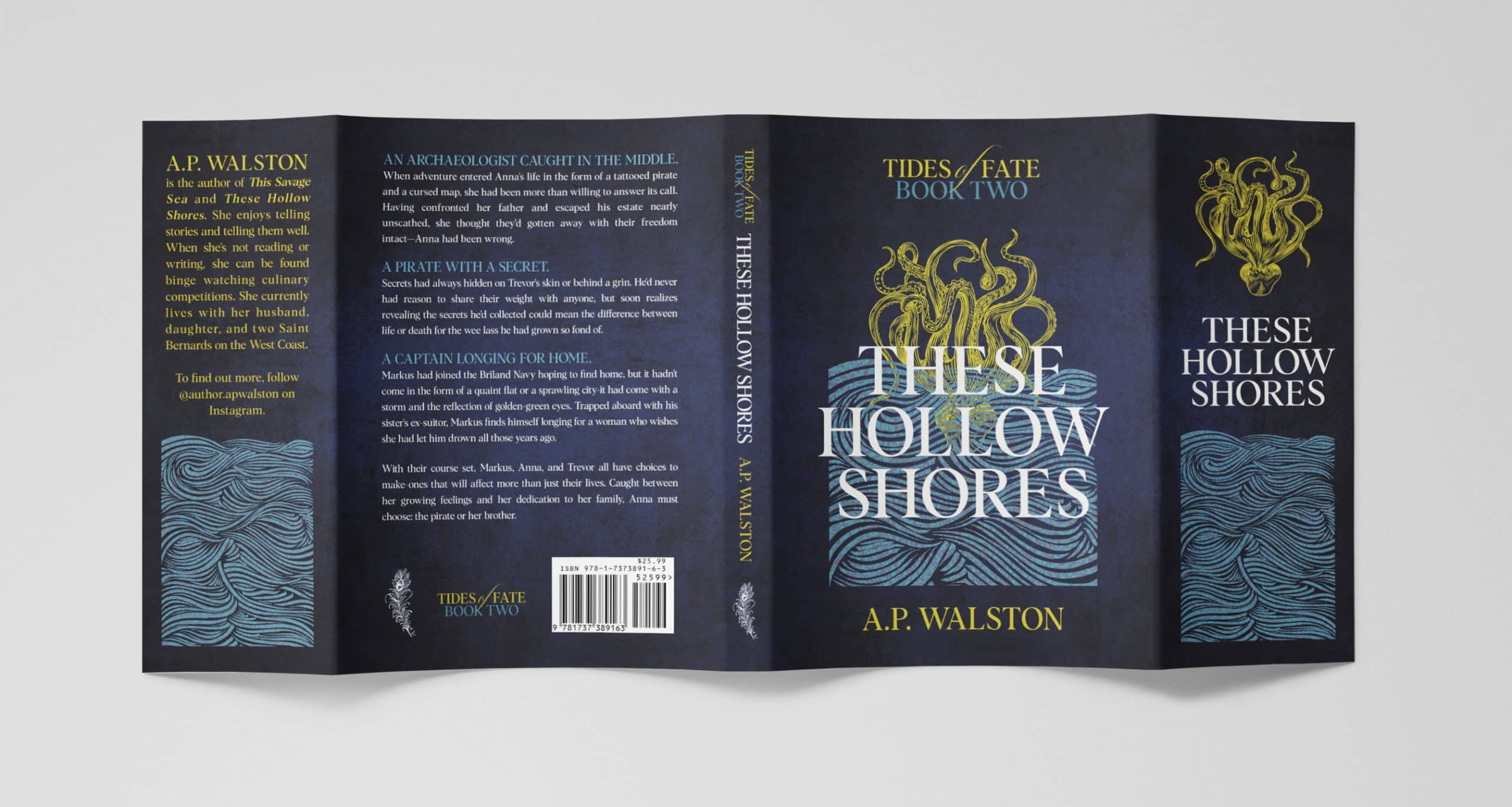 These Hollow Shores – A.P. Walston – For the additional flaps, this author has chosen to continue on the visual design elements in lieu of more information about the book in the front flap. Including visual elements of the design in the flaps provides aesthetically appealing custom dust jacket.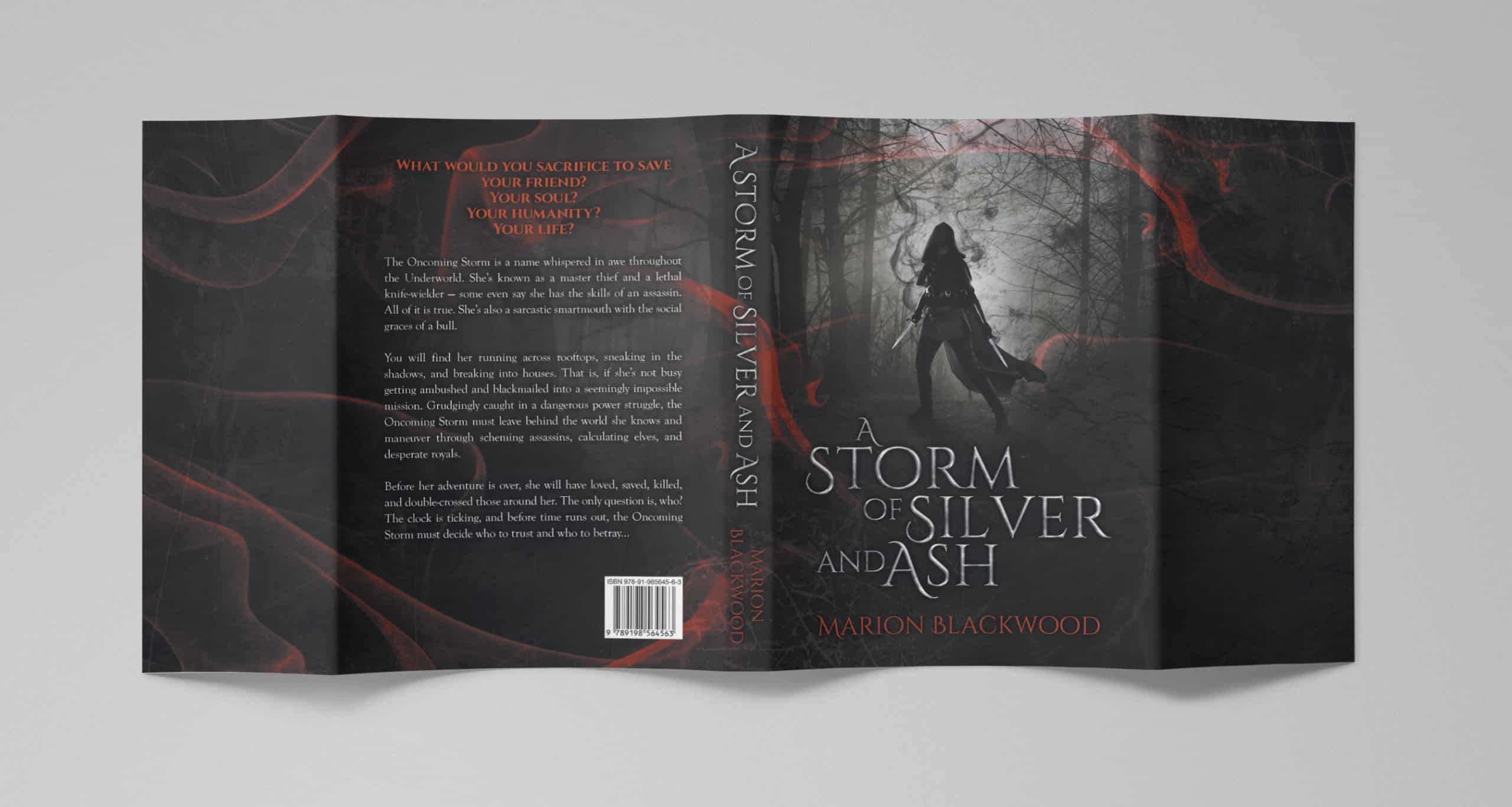 A Storm of Silver and Ash – Marion Blackwood Just because it is there, doesn't mean it has to be used! This design continues on some visual elements of the front and back cover design into the front and back flaps. This decision focuses all of the reader's attention on the blurb itself instead of other information that could be potentially distracting. If you have spent a lot of energy crafting the perfect book blurb, this could be an approach to consider!
Resistor – C.E. Clayton – This is a unique approach to make use of the back cover to feature another prominent character in the story. The front flap features the blurb, while the back features the author bio, photo, website and publishing logo. The author also features an award on the front cover. This design decision is sure to grab attention as both covers are used to feature strong illustrations.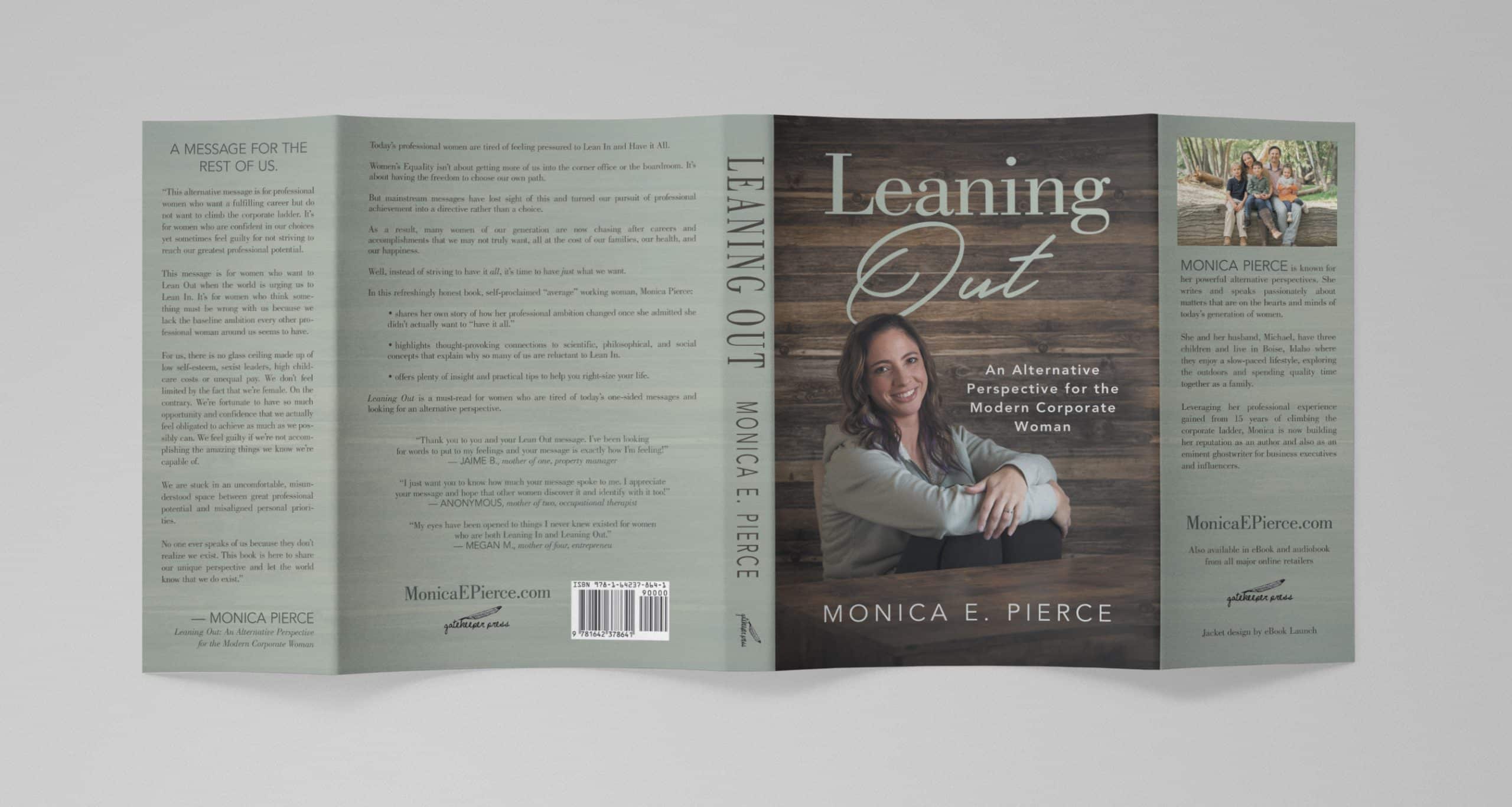 Leaning Out – Monica E. Pierce – In this example, we see no wasted available space. The front flap has more about the author and bio as well as her email and publisher logo. The back flap has a note from the author. This is a nice touch as the author knows exactly who her audience is and can speak directly to them. The back cover has the book's blurb, reviews, website, logo and ISBN. This is a great example of how much information can be put on a custom dust jacket design. If you have a lot of information that you can cater directly to your target audience, this could be a good approach.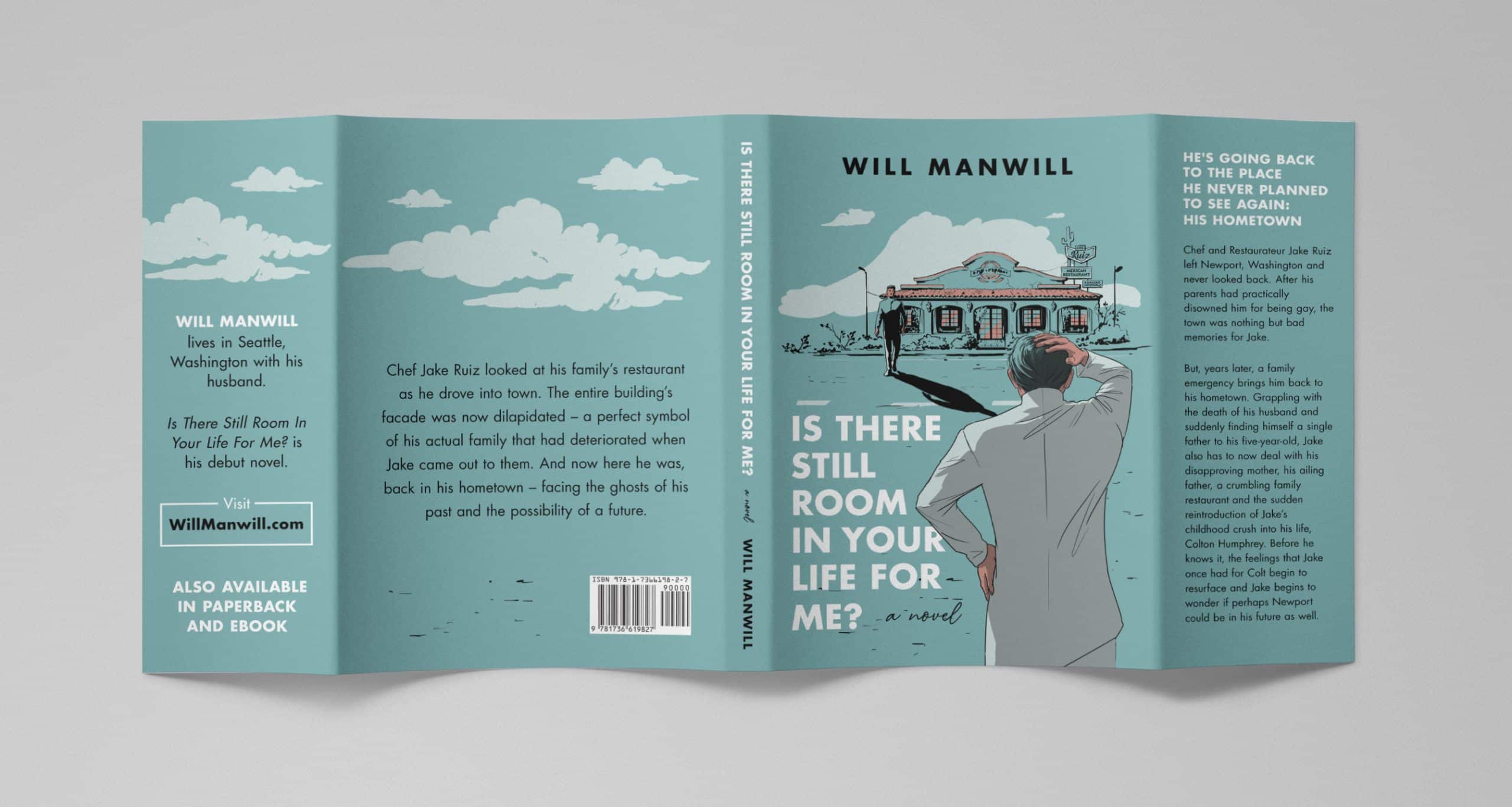 Is There Still Room In Your Life For Me? – Will Manwill – With this approach the author opted to keep a lot of breathing space around the text elements that he did include which works really well for making the text stand out and not overwhelm. A few graphical elements from the front cover are used on the back cover and back flap to tie everything together.
Each of the dust jackets above were created by our team here at Ebook Launch. If you're wanting help with designing your book cover and dust jacket, check out our book cover design package, and get in touch if you like what you see!
Now that we've discussed different layout examples, let's talk about where you can print dust jackets for books…
Popular Printing Platforms for Self-Publishers:
There are many self-publishing printing platforms that offer a dust jacket option for hardcover books. Some popular options include:
IngramSpark: IngramSpark is a self-publishing platform that allows authors to print and distribute their books globally, and offers a dust jacket option for hardcover books.

IngramSpark is Ebook Launch's platform recommendation for authors who are interested in a producing a dust jacket.

Blurb: Blurb is a self-publishing platform that allows authors to create and print high-quality books, and offers a dust jacket option for hardcover books.

BookBaby: BookBaby is a self-publishing platform that offers a range of print and distribution options for authors, and includes a dust jacket option for hardcover books.

Lulu: Lulu is a self-publishing platform that offers a range of print and distribution options for authors, and includes a dust jacket option for hardcover books. Note: You should be aware of royalties compared to other platforms before making your choice.
Note: You might be wondering, "where is Amazon KDP"? That's a good question. At the time of this writing, Amazon KDP does not offer a dust jacket option. They only offers paperback and case-laminate hardcovers for their printing options. This has been rumoured to change and we'll update if/when it does.
These are just a few examples of self-publishing printing platforms that offer a dust jacket option for hardcover books. There are many other platforms available, and the best one for you will depend on your specific needs and preferences. It is always a good idea to research and compare different platforms to find the one that best meets your needs and budget.
Preparing a Custom Dust Jacket for Your Self-Published Book: DIY vs. Professional Options
DIY
The first step is to create your book cover design for the front of your book.
Once that is complete, you will need to decide on which platform you would like to print and distribute your book with (some popular options are listed in the previous section of this post).
Finally, you will need to source that platform's file creation guide and follow their instructions. For example, here is Ingram Spark's file creation guide. You may be able to use an online design application like Canva or Photopea; however, at Ebook Launch we use the Adobe Creative Suite of applications for our cover design and preparation of print files.
Professional Options
While it's certainly possible to create and print a dust jacket for your self-published book on your own, there are many benefits to investing in a professional cover design company to design and prepare your files for print:
Overall quality of design – One of the biggest benefits is that a professional designer has the experience and skill to create a visually appealing and eye-catching cover that will help your book stand out from the competition.
No errors when uploading file – a professional designer can help to ensure that your book cover meets industry standards and is optimized for printing and distribution. This can help to avoid costly mistakes or delays, and can ensure that your book is printed to the highest quality standards.
Expert advice & peace of mind – A competent designer can provide feedback and advice on the best printing options for your specific book.
If you're considering hiring a professional to design and prepare your dust jacket, we offer all of our author's who use our book cover services the option to create one. Here's an overview of our dust jacket design services. If you have any questions, you can contact us.
Summary
In conclusion, dust jackets are an important element of a professional-looking book. They protect the book, and when designed well, they can help to make the book stand out from the competition. When creating a dust jacket, it's important to include key information and design it to reflect the tone of the book. For self-publishing authors, there are options for creating and printing a dust jacket on your own, or hiring a professional design company to do it for you.
Now it's your turn! What do you think? Did we miss anything? Will you be offer a dust jacket option for your self-published book?

Related Posts