What is ebook formatting?
Ebook formatting is the preparation of a digital file, to ensure that it meets the publisher's requirements and is an enjoyable reading experience.
Why do you need your ebook formatted?
Each publisher has specific requirements that need to be met to be accepted. Just uploading an unformatted Word file does not give good results.
Who do we format books for?
We format books for self-publishing authors and small publishers. Our formatted books are prepared to upload, without issue, to Smashwords, Amazon Kindle Direct Publishing, Kobo, Apple, Barnes & Noble, IngramSpark and more.
When can I expect my formatted file?
We have some of the fastest turnaround times in the business. Turnaround time within 7 days of payment (3 days for rush jobs).
DRAG TABLE TO THE LEFT TO VIEW ALL COLUMNS
Receive a 15% discount on a single order of three or more file formats for one book. Discount also applies to Print Book Formatting!*
*The following format types are eligible: doc, mobi, epub, PDF (for print)
All prices in USD.

WE ACCEPT THE FOLLOWING METHODS OF PAYMENT:

Why Choose Ebook Launch For Your Book Formatting Services?
TRUSTED BY THOUSANDS OF INDEPENDENT AUTHORS AND PUBLISHERS SINCE 2011
EACH BOOK IS PERSONALLY FORMATTED AND CAREFULLY REVIEWED
FRIENDLY, EFFICIENT COMMUNICATION FROM OUR TEAM OF 3
FAST AND THOROUGH SERVICE (WITH 3 DAY RUSH OPTION AVAILABLE)
WE OFFER THE BEST VALUE FOR SERVICE AND FINAL PRODUCT
KEEP 100% OF YOUR PROFITS! WE TAKE NO ROYALTIES
Our Custom Ebook Formatting Service Includes:
Appropriate front matter (e.g. title and copyright page)
Keeping your  italics, bold,

underline

, strike through, etc.
Prompt, direct communication with our professional formatters.
Internally linked endnotes (footnotes are converted to endnotes)
External hyperlinks to websites, social media, and/or email.
Turnaround time for your custom book within 7 days (3 days for rush jobs).
Our Ebook Formatting Process
Trusted by the Best in the Business
Ebook Launch has been working with Smashwords authors since way back in 2009 (a lifetime in digital years!). They're always professional, ever reliable and competitively priced. I highly recommend working with these guys!
Mark Coker

I highly recommend Dane and the team at Ebook Launch for their cover designs. They have their finger on the pulse of today's readers and know exactly how to present your book so it reaches its potential. That's why they've repeatedly won top honors in our cover design contest.
Joel Friedlander

Ebook Launch is one of the best book cover designers I know—especially for the trickier covers which call for more creative, out of the box solutions. You can't go wrong hiring them to design your book.
Derek Murphy

Formatting Services FAQ
How long does your ebook formatting service take?
We have some of the fastest turnaround times in the business including a rush option. Our current turnaround time can be found in our Help Center article formatting quote form to request print formatting for KDP Print and IngramSpark
Can I get my book formatted for one publisher and then get others at a later date?
Yes, that is no problem at all.
Which files should I order?
We recommend that you order the following files:
Smashwords Word doc file
Amazon mobi file
As Smashwords distributes to most of the major ebook retailers except Amazon, this will ensure that you are published at most of the major ebook retailers. If you wish to publish directly on Apple, B&N, Kobo, etc., we recommend the 2 epub files (1 with the cover, 1 without) option.
I have images that I want to use in my ebook. Is that okay?
Yes, images are okay in ebooks. Just remember that images increase the size of the ebook file. Smashwords only allows 15 MB for each Word doc file uploaded. Also, Amazon charges a fee/MB to send your ebook via WhisperNet.
What if I need changes to my book after you send me the formatted file?
Any changes related to book formatting are free. We just ask that you review your whole book and send the changes as one list. For typos, please see our revision process.
Do you offer other publishing services?
What if I have more questions?
You can click on the 'help' icon on the bottom right of each page or contact us through our contact page.
The Ebook Launch Guarantee
We stand behind our ebook formatting service with our 100% Satisfaction Guarantee. We genuinely want you to be happy with our work. If for any reason you don't like something, we'll work with you to make it right or we will refund your money. It's that simple.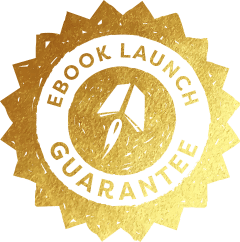 Authors Love & Trust Us
"My books have very complicated formatting with over 100 illustrations each, external links, and numerous bulleted lists. None of the formatters I contacted would even take these on but John said "No problem!" He completed my original three e-books quickly, for a more than fair price, and they look great. I have no hesitation recommending Ebook Launch's work to other e-book authors!"

Author of '11 Trigger Points' pain relief self-help books

"I cannot say enough good things about the team at Ebook Launch. As I am not totally computer savvy, they took the time to explain to me how everything works in ebook publishing. They have tremendous cover artists. Any ebook author would be wise to choose Ebook Launch for their formatting and cover needs."

Author of the 'Yes, You Can' series

"I just wanted to thank you for the wonderful work you did on my book. My book made the premium catalog at Smashwords. I wouldn't have been able to do it without your help. I am working on a new book and would be honored if you will work on that book as well."

Author of 'Pack Law'

Finding ebooklaunch by surfing the Internet was awesome!!! I used them to format my most recent book "Christian Caregiving: Practical Advice for a Happy Ending" and I am so glad I did. They are fast, efficient, and careful. I will use them again next time I am inspired to write another book. I will also be telling all my author friends about their great service. Five Star!

The team at Ebook Launch was highly recommended by a publishing website I trust, and I turned to them for helping me format my ebook. They have been wonderful to work with! The turnaround was unexpectedly fast and I got incredible value for my money. But more importantly, Adrian gave my book the same care I would as an author. He offered suggestions that improved its appearance and provided a beautiful, clean format. I also appreciated his patience and friendliness. If you want great service at a great price, Ebook Launch is the way to go.

Ebook Launch did a great job on my Print on Demand, Epub, and Mobi files for my book Endurance. Adrian communicates well, is good to work with, and he did an excellent job. From now on, I will have all my formatting done at Ebook Launch. I highly recommend this company.

I just published my fourth ebook novel recently and I've used Ebook Launch every time with very satisfactory results. They always promptly turn around the cover and manuscript formatting - and as an added bonus, they always promptly and happily answer even the stupidest questions I come up with. Adrian is very easy to work with and Dane has repeatedly come up with cover ideas when I was fairly sure that it couldn't be done.

This company really and truly cares about the people who use their services. My co-author and I expected the 7 day turnaround that the website states, and we were fine with waiting, and we got the formatted copy of our book the next day. I will ONLY be using Ebook Launch for my formatting needs from now on, and I'll do it HAPPILY.

I love this company — Adrian has been a pleasure to work with. I've used their ebook formatting service for 2 books and one revision, and all three occasions have been swift and super friendly, even though it's all via email. I wouldn't dream of even looking for another service for my self-publishing needs. Thanks guys; I really appreciate you!

Ebook Launch helped make my first self-publishing project a success. They responded promptly when I had questions prior to hiring them for a custom ebook cover and .mobi and .doc formatting. Their price was about half what was quoted by format and book cover freelancers, so I was pleased that I got my money's worth. They sent two book cover variations and we worked through suggestions to improve on one. My book cover design turned out great. I look forward to working with them again in the future.

Really pleased with the service I received from Ebook launch. I had a few questions that were answered quickly. My files were formatted for Kindle and Smashwords which were excepted first time. Thank you again Adrian.